With a view to giving youth the leadership in our programme, ten high schools of Almora were invited to participate in an exhibition on the theme "Clean, Green, Healthy Almora" that was held on June 5, 2015, World Environment Day.
A preparatory session was held with teachers from these schools during which a presentation on environment-friendly waste management was given and DVDs distributed with power-point presentations as well as films to be presented to their students (See our
Educational materials
in our Resources section). These teachers then guided the students in coming up with innovative strategies to clean and green their surroundings and to present them in the form of models.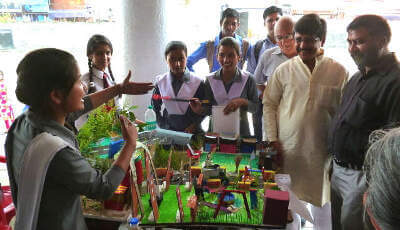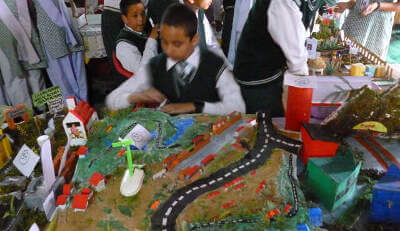 Students of Classes IX to XII from Adam's Inter College, Koormanchal Academy, Government Girls' Inter College (GGIC), Holy Angel Public School, Shardha Public School, Vivekanand Balika Vidya Mandir and Vivekanand Boys' Inter College created 37 models using waste material like shoe boxes and ice cream sticks showing what Almora could look like in future if the practice of separating waste at its source and recycling it became widespread. The students never tired of explaining with great conviction to visitors their innovative ideas for separating waste into organic, inorganic and insanitary types and applying the 3 'R's – Reduce, Reuse and Recycle. Some focussed on rain water harvesting and treatment of sewage to avoid pollution of our rivers, others on reducing air pollution and congestion of our roads through more environment friendly transport. Many compared a polluted city with a clean city, the present with the future of their dreams. The best four received cash prizes donated by eminent citizens of Almora.