Use of plastic waste in road construction
September 2017 saw the launch of a new initiative that will reduce the pollution caused by dumping and burning of plastic waste while improving the road infrastructure. This one-year pilot project is funded by the Swiss Agency for Development and Cooperation.
Plastic waste constitutes 16% of municipal solid waste in Almora town, about a ton a day. Much of it is strewn along roadsides and mountain paths or disposed of in storm water drains or near water sources (naolas). Plastic is fatal to animals, including marine life, and the dioxins emitted when burning it is a major cause of cancer. The High Court has banned the use of plastic carry bags but everything from flour and snacks to drinks is packaged in plastic or in laminates of aluminium foil and plastic, material that is not bio-degradable.
All types of plastic, including laminates and thermacol, can be mixed with bitumen to create roads that are more durable and have a higher load-bearing capacity. Dr. Vasudevan of Thiagarajar College of Engineering, Madurai has patented a process that has proved successful in several states of South India. The Public Works Department has agreed to use the plastic waste collected by Green Hills in the construction of roads in Kumaon. The Nagar Palika Parishad has provided store rooms that are fast filling up.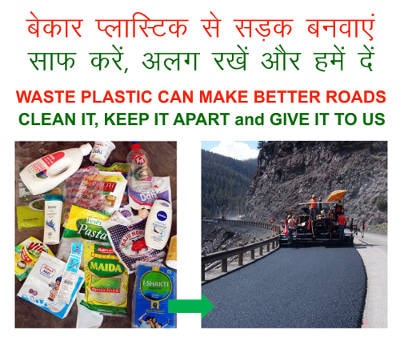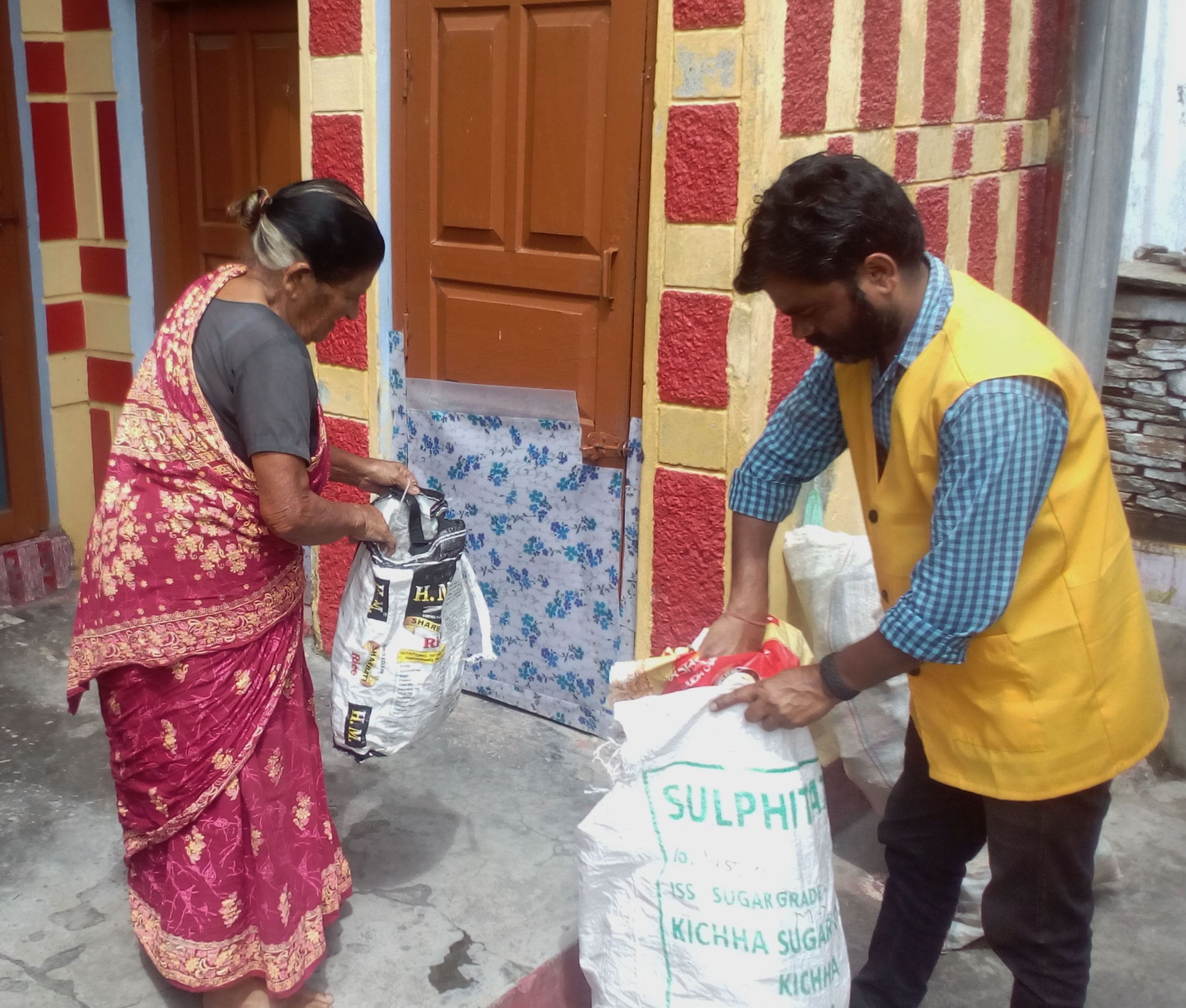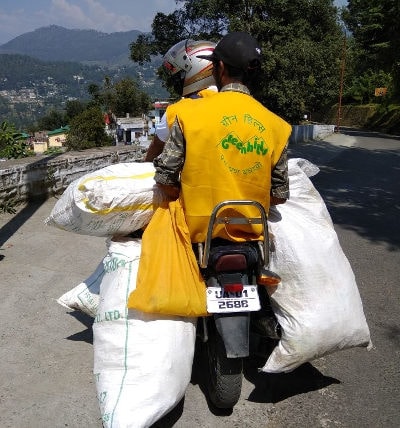 Every morning Green Hills employees go around one ward or village using a loud speaker to request people to keep their plastic waste separately and hand it over to our waste collectors. The waste is transported on motorbike to the Nagar Palika store rooms from where it is to be picked up by the PWD. The programme will gradually expand to cover the whole of Almora town and three of the surrounding villages.
About half the residents of the wards and villages covered so far are segregating their plastic waste and handing it over to the Green hills waste collectors. We collect about a ton of plastic waste each month, waste which otherwise would have been burnt or dumped on a hillside. It will now be usefully recycled near its source.
Segregation at source in Almora Cantt
The Cantonment Board of Almora has partnered with Green Hills to make the area a model of environment-friendly waste management. Since July 2017 all households in the Cantt area have been asked to segregate their waste into wet, dry and dirty. Wet and dirty waste is picked up daily by the sanitation staff of Cantt and dry waste is picked up every Saturday door-to-door. Twin compost pits have been dug at six different spots. The segregated wet waste is deposited there and covered with soil. Plastic waste is stored in a shed for use by the PWD. Other recyclables – glass, paper, metals are sold to kabadis. Dirty waste is incinerated.
It took about two months for 99% of households in Cantt to segregate correctly. The video below illustrates the change that took place between July and September 2017.
Our experience with Cantt shows that residents will only segregate their waste if it is picked up door-to-door and recycled. Large roadside dustbins labeled jaivik and ajaivik do not produce the desired results. There should be small, monkey-proof dustbins placed along the road at convenient distances for passers-by to drop wrappers into while walking. Waste generated by households and commercial establishments must be picked up at the door. Green Hills will continue to work with the Cantt Board to improve techniques of composting and get feedback from residents on their satisfaction with the services provided.
On September 27, 2014 a demonstration was organised to promote recycling of plastic waste and to end dumping of it by creating a 'mountain of plastic' to show how much could be recycled.
Changing deeply ingrained habits requires a great deal of awareness about the destructive effects of current practices. The best agents of change are the youth who have proved to be committed to this cause and innovative in imagining strategies to clean and green their surroundings. The Green Hills team has made presentations to school and university students on alternative methods of waste management. The 'Green Hills Club' was created by the students themselves who followed up on these presentations by conducting rallies in the town and getting shop keepers to sign a promise to keep the market clean.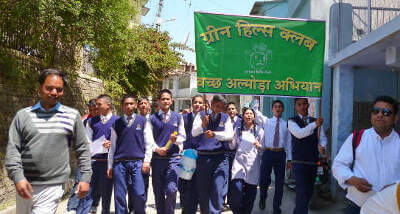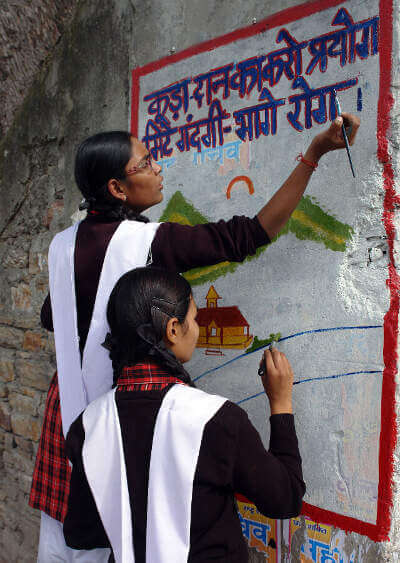 Wall writing is an effective way of creating public opinion. The students of Adam's Inter College worked hard to clean a slope on the edge of the school campus that had become a garbage dump. They then painted messages near the gate of the school to promote segregation of waste at source.
Wet waste for composting
Dry waste for recycling
Insanitary waste for incineration
Visit Our photo gallery for more
E-waste collection drive for World Environment Day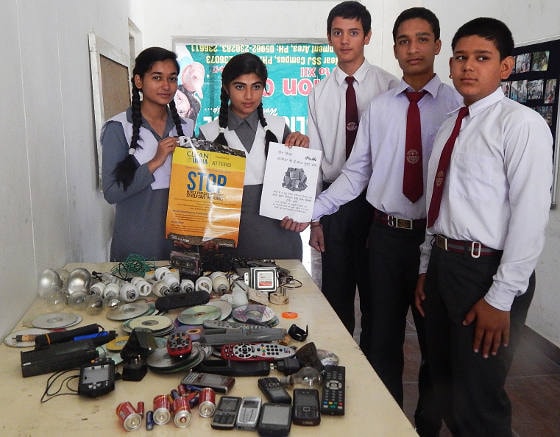 For World Environment Day, 2016, Green Hills launched a campaign for recycling of e-waste. Students were made aware of the risks to public health caused by the leaching of heavy metals contained in e-waste into our soil and water. Schools set up collection boxes for e-waste that was brought by their students.For the first time, a Flash mob was organised on May 21 at five different spots in town to convey this message. The students of D'Shadow Dance Academy danced to 'Badtameez Dil' taking shoppers by surprise.
The first quintal of waste was collected by Attero in 2016 and taken to their recycling facility in Roorkee. Following up on the success of the campaign, Green Hills has set up a permanent e-waste collection centre for e-waste at J. J. Infocom near HDFC bank. Another quintal of e-waste has been collected there and will be sent for recycling. We hope in this way to prevent the dumping and burning of e-waste that is a growing menace to the environment and to public health.
World Environment Day, 2018

World Environment Day was celebrated on June 3, 2018 on the theme 'Beat Plastic Pollution'. Students of eight high schools of Almora staged short plays on the subject. Each participant received a sturdy cloth shopping bag that will help reduce single use plastic carry bags. They will be distributed on order in Almora against a small contribution of Rs. 50 per bag to Green Hills.

Reduce, Reuse, Recycle

Since May 2013, when the new Municipal Council was elected, frequent meetings have been held with the Chairperson, the Executive Officer, the Safai Nirakshak and the Ward members to push for a change in current methods of waste collection and disposal in the town which are harmful to the environment as well as to public health.

Segregation at source and door-to-door collection

We are promoting the segregation of waste at source into three categories:

WETCompostable waste

DRY
Recyclable waste

DIRTY
Insanitary waste


Vegetable and fruit peels, tea leaves, coffee grounds, left-over food, dairy products, egg shells, meat, fish, garden waste

Plastic, paper, carton, glass pieces and bottles, shoes, iron, aluminium foil, blades, tins, bulbs, batteries, e-waste

House sweepings, hair, nails, babies' diapers, pads, bandages, tissues, medicines, laminates (plastic and aluminium stuck together like chip and pan packets), condoms, etc.

Ban on plastic carry bags

Petitions have been submitted to the District Magistrate to enforce the ban on plastic carry bags by regular inspection of the market during which carry bags are confiscated and fines imposed on vendors that are distributing them. Some action was taken following a High Court order for all of Uttarakhand issued in January 2015 but has not been continued.